Count on Kids is a 501(c)3 that serves the Sacramento region. Our mission is to create tomorrow's socially conscious leaders through participation in and facilitation of community improvement projects. We will have programs that engage all children, from the youngest toddler to the newest college student, and provides them opportunities to positively impact their communities.
After Kelli Plevyak, founder of Count on Kids, had the privilege of sitting on the board of Oregon based nonprofit, Little Hands Can, she was inspired to do something in her own community. She envisioned a program that engaged all children, from the youngest toddler to the newest college student, and provided them opportunities to positively impact their communities. She wanted the program to guide them on a journey, a journey that took them from having a "me" perspective to a "we" perspective. The beginning of the journey would include participating in community service projects such as putting together Care Kits for the homeless. The journey would culminate with a young adult using our toolkit to not only create their own community service project but to lead and facilitate it themselves. In short, Kelli wanted to help create tomorrow's socially conscious leaders. Leaders that would grow into adults and continue to positively impact their own communities but also take that perspective and skill-set into their workplace.
​
Count on Kids was formed from this vision. Our mission is to create tomorrow's socially conscious leaders through participation in and facilitation of community improvement projects. We know that children are capable of great things. We know that if they are given the right environment and support, they can change the world and at the same time gain valuable qualities such as confidence and compassion.
Board Bio's
Kelli Plevyak - Founder and Executive Director
---
​ Kelli began her life in the non-profit world with a wonderful organization in Oregon called Little Hands Can. She had the pleasure of holding the position of Vice President on their board for close to 3 years before she decided to open her own non-profit in the Sacramento region. From that, Count on Kids was born! Her passion for children and empowering them to make a difference in the world contributed to her desire to launch Count on Kids. Her excitement for their cause grows every day! Prior to starting Count on Kids, Kelli had spent 20 years in the technology industry, most recently as Program Director - California Business for Dynamics Research Corporation. She holds a degree in management with an emphasis in project management. She brings expertise in technology, finance, management and human resources to the Count on Kids organization. Kelli is married with a 22-year-old son and a 6-year-old daughter who have taught her how to slow down and appreciate every moment with them. She enjoys running, crafting and spending time with her family.
---
Heather Scott - Board Secretary
---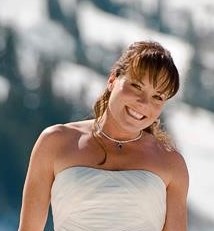 Heather started her involvement in non-profits in San Francisco, serving as an officer on the Board of Directors (2004-2008) for the Yerba Buena Alliance. Together, she and the board improved the community to serve the residents and their children including putting in street lights to building a park. Since then she has had a large span of involvement with many different non-profits serving everyone from children to cities.
Heather most recently had a very fulfilling career in Marketing. She was the Marketing Manager for the largest high end, fine wine and spirits distributor in the nation, Southern Wine and Spirits. She holds two degrees, one in business and one in hospitality business. She brings great interpersonal skills, organizational strength, and marketing and events expertise to Count on Kids.
Heather is married with two young boys, Jack (4) and Mason (2). She enjoys spending time with her family, summers on the lake in Tahoe and winters on the mountain at Squaw Valley. She is happiest cooking and spending time outdoors with her friends and family.
---
Jessica Hallbourg - Board Treasurer
---
VP, Finance at Vision Service Plan
Jessica experienced the feeling of giving back to the community at a very early age, as she watched her parents give back to their community through church. At some point this turned in actually helping mom in the Sunday school class and doing any other events that she was old enough to assist in. Jessica continues to volunteer with different organizations as an adult and finds that not only does it help the community, but what you as a volunteer get out of it is even more, happiness, self-confidence and a sense a purpose. Wouldn't it be great to have young kids experience the benefits of volunteering? This is why I am so excited to be a part of Count of Kids!
Jessica is currently a Finance Director at VSP headquarters in Rancho Cordova, CA. Her day to day responsibilities include overseeing the consolidated finance team which includes, financial reporting, identifying risk and mitigating that risk with internal controls and managing internal external financial audits. She holds a business degree concentrated in accounting and recently obtained her MBA from CSU Sacramento. Her goal at work in the community is to be in roles that allows her to maximizes her strengths and keeps her challenged - in a role where she can continuously learn while adding value an making a difference. She strives to be a catalyst for change where it makes sense and to promote/provoke thought on the "whys" of tasks performed.
Jessica has lived in California most of her life (in both Southern and Northern California). She moved to the greater Sacramento area in 2004. Jessica is married with three children ages 21, 12 and 9 who remind what matters most in life, family! She is excited to be more involved in the community where she can make an impact and can be the most helpful.
---
Terri Wilson - Board Member – Corporate Sponsorships and Fundraising/Gala
---
Senior Vice President, International Business Development at Vision Service Plan
When Terri isn't traveling the world for her job as VSP's SVP of International Business Development, she is most likely running after her crazy 4-legged fur baby, Tanner or spending time with her husband, Mike and "the good dog", Boomer. Their love for fur babies has led to their latest venture and will soon be opening up their own doggie daycare and boarding facility, Dogtopia.
Terri also has a love for 2 legged human babies and has served in a number of non-profit organizations in various roles, including Big Brothers Big Sisters and The Boys and Girls Club. Terri knows how to focus on the "fun" in fund raising.
Terri & Mike have been in wedded bliss for 17 years. They have 2 adult children, Maggie and Drew. They live in Serrano and are blessed to be surrounded with incredible friends - which has led to this opportunity to help improve our communities by Counting on Kids.
---
Dawn Kaufman - Board Member - Fundraising Advisor
---
Vice President, Commercial Client Management at Vision Service Plan
Dawn has been with VSP (Vision Service Plan) for over 24 years. She is currently the Vice-President of Commercial Market Operations. She has utilized her skills as an effective results-oriented leader in business development and account management to develop trusted client relationships that are based on delivering customized service designed to meet the unique needs of high-profile and market-leader companies.
VSP is a not-for-profit company. Having enthusiasm to support others, working for a not-for-profit company whose mission is to help people see has been an ideal situation for her. Dawn was very active with the Big Brothers Big Sisters of Sacramento organization for several years and played a key role in their annual fund-raising gala. Dawn has a real passion for helping children and is excited to be a part of the Count on Kids organization!
Dawn is married with a blended family of three kids (all over 30!) and four grandchildren (ranging from 6 months to 10 years). Her interests include traveling, camping and boating with her husband, family and friends.
---
Sara Rippenkroeger – Board Member – Curriculum and Art Project Advisor
---
Own
er of Project Mimosa
Hi I'm Sara Rippenkroeger, dog mom, yogi, teacher. Lover of nature, people, and the arts. Owner of Project Mimosa LLC, where I enjoy sparking creativity in the lives of as many people as possible! Sacramento born and raised, with a passion for helping others, building community, and caring for the environment.
Background in early childhood development, and montessori teaching method. I live the farm to fork life, planting, weeding, and harvesting organic produce at Soil Born Farms, a local non-profit with an emphasis on education, health, environment, and community. Brainstorming daily at the Urban Hive in Midtown Sacramento with fellow creatives that want, and work towards positive change. Excited for the future, and changing lives♡
---
Alyssa Tarr – Board Member – Curriculum Advisor
---
Teacher with Folsom Cordova School District, 21 years experience
Alyssa has been an elementary school teacher for over twenty years. Her passion is in the early elementary grades and she especially loves teaching children to read. She currently teaches first grade in the Folsom Cordova Unified School District. In addition to being a classroom teacher, she has been a mentor to new teachers entering the profession as well as worked at a district office, modeling lessons in classrooms and working as an academic coach.
She received her Bachelor of Arts degree in Sociology at UC Santa Barbara and holds a Master of Arts degree in Teaching with an emphasis in Multicultural Education and Social Justice from California State University, Fresno. She is thrilled to be a part of the Count on Kids team and is excited for the positive changes this organization will make in our community.
Alyssa has been married to her husband Jeremy for 8 years. They have 2 little boys who are 7 and 5 years old. She loves experiencing the magic of everyday things with them and ultimately seeing the world through their eyes.
---
Jeannette Collier, MBA – Board Member – Media, Branding and Operations Advisor
---
Infrastructure Program Manager at Apple
Jeannette is a Self-motivated professional with 18+ years of experience in the wireless and tech industries. Jeannette prides herself in Integrating People, Process and Technology together with comprehensive solutions tailored for organization and program goals.
Currently Jeannette is a program manager at Apple Inc where she leads global teams for data collection initiatives for the Strategic Data solutions team.
From 1998 - 2017 Jeannette worked at Verizon in various capacities, in the National Network Organization. Project scope and complexity ranged from a few thousand dollars to multi-million dollars. Her focus was on data center implementation for emerging technologies and services.
Personally, Jeannette and her significant other raise their three year old daughter together. In her own words "Being a mother and having a family is the joy of my life. I feel incredibly blessed to have my daughter and partner. Helping to bring a sense of community to my daughter at such a young age brings me tremendous pride. When I'm not working I enjoy traveling, home decor projects, cooking and pilates".
---
Terese Matchim – Board Member - Information Security Advisor
---
Information Security Officer – California Department of Child Support Services (Retired)
Terese recently retired from serving as the Chief Information Security office at the Department of Child Support Services. Terese came to DCSS from Covered California where she was the Acting Chief Technology Officer(CTO) as well as the Manager of Enterprise Architecture. Terese has previous experience as the Chief Information Officer (CIO) at the Department of Conservation, where she was instrumental in a brand new Centralized Data Management System for Conservations oil and gas regulatory activities.
Terese has several years' experience as the Chief Information Security Officer (CISO) at Covered California from 2012 to 2015, one of the most successful Health Benefit Exchanges. Terese has worked in various security, network and managerial positions within California state government for the past 18 years. Prior to her State experience, Terese has private sector experience in network management and security.
Terese is married with two recently adopted children ages three and five, which she fostered from birth. Terese brings a new perspective of parenting with a purpose, management in information systems, a passion for photography and spending time with her amazing family.
---
Dave Plevyak - Finance Committee and Board Member
---
Sr. VP Finance and Chief Business Controller – VSP Global Dave Plevyak has served in various roles within VSP for over two decades. In addition to working as a finance executive for VSP Global, Dave also held an executive position at Eyefinity®/OfficeMate®, along with positions at VSP® Vision Care in underwriting, finance, marketing and corporate development. As the leader of the VSP corporate development team, he played a pivotal role in the acquisition of nine companies including Marchon® Eyewear in 2008. His responsibilities have also included the management of eBusiness and business intelligence for VSP. Plevyak received a Masters of Business Administration with an economics emphasis from Claremont Graduate School and a Bachelor of Science in Business Administration from Santa Clara University.
---
---